News
'Rushing Water' chosen for American Women Artists' exhibition in Colorado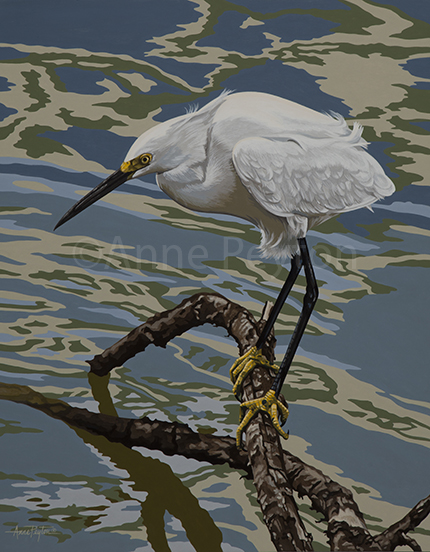 (May 15, 2019) - "Rushing Water," Anne Peyton's painting of a Snowy Egret seeking a meal, has been selected for "Looking West: An Exhibition Highlighting Works by American Women Artists" at the Steamboat Art Museum in Steamboat Springs, Colorado.
"Patience is a virtue, and it can be rewarding, too," Peyton said. "I love watching egrets and herons when they hunt and Snowy Egrets are one of my favorites. They will sit as still as possible above the water and just wait until something comes by before striking.
"They are very accurate, as well: Even with flowing water, the ripples on the surface, and the different way light refracts below the surface, they can earn their meal more often than not."
"Looking West" opens May 24, 2019, and continues through September 2.
Two Anne Peyton paintings debut at 2018 Kentucky National Wildlife Art Exhibit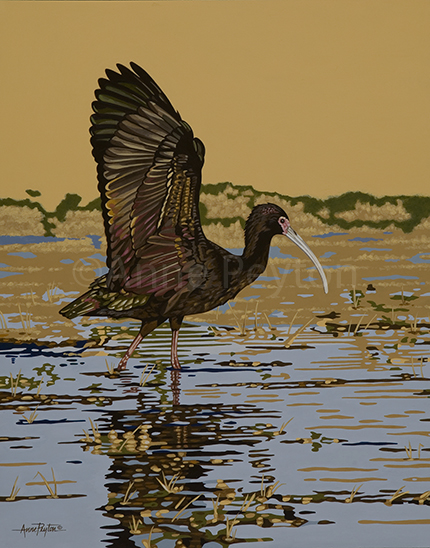 (October 3, 2018) - "Rushing Water" (Snowy Egret) and "Sun Salutation" (White-faced Ibis) are heading to the 2018 Kentucky National Wildlife Art Exhibit at the Preston Arts Center in Henderson, Kentucky.
"Henderon is John James Audubon country and was his home for many years while he explored interior American and created the paintings for his 'Birds of America,' Peyton said. "The connection to Audubon makes this biannual event a special one for artists who capture the beauty of birds."
The exhibit runs October 3 through November 29.
UPDATE: "Rushing Water" received the David and Arlene Alexander Award at the Kentucky National Wildlife Art Exhibit awards dinner on October 20. Special "thank yous" go to exhibit juror Kathy Kelsey Foley, Jule McClellan, and the Alexander Family, sponsors of this award.
'On His Territory' selected for SAA Art and the Animal exhibition in Florida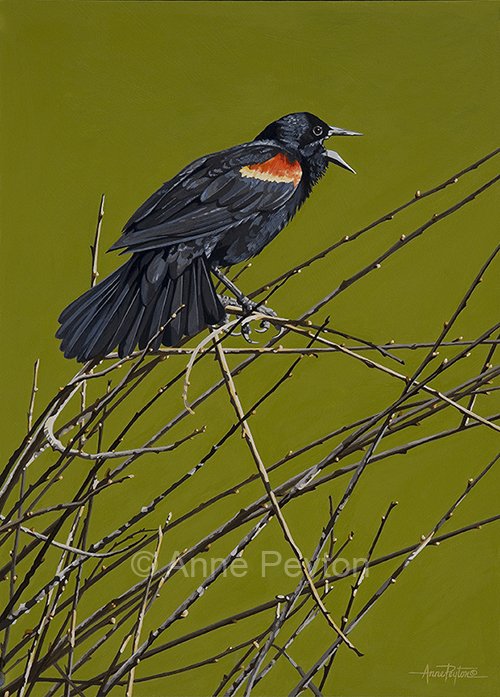 (July 27, 2018) - Anne Peyton's original portrait of a Red-winged Blackbird, "On His Territory," has been selected for the Society of Animal Artists' 58th "Art and the Animal" annual exhibition.
"Every morning, the marshes along the Salt and Gila rivers are alive with the songs of blackbirds and it can be so noisy that you cannot talk with others by your side," Peyton said. "If you wait just a little longer, you can witness the blast-off, when thousands of blackbirds take off together for the nearby fields and dairy farms.
"The males are such show-offs, climbing to the top of a cattail or tree branch and belting his song while flaring his red-and-yellow epaulets."
Art and the Animal opens July 28 at the new James Museum of Western and Wildlife Art in St. Petersburg, Florida, and runs through October 23.
Update: "On His Territory" was chosen for the Art and the Animal National Tour. The exhibition will visit The Hiram Blauvelt Art Museum in Oradell, New Jersey, November 17 through March 15, 2019, and continues at The Sternberg Museum of Natural History at Fort Hays State University in Hays, Kansas, April 6, 2019, through August 25, 2019.
'Gulf Coast Gold' appears on cover of the Journal of the American Veterinary Medical Association
(May 22, 2016) - In March, Anne Peyton's "Gulf Coast Gold" received the Journal of the American Veterinary Medicine Association Award at the Animals in Art International Exhibition at the LSU School of Veterinary Medicine in Baton Rouge, Louisiana.
The painting now appears on the June 2016 JAVMA cover. The journal is sent to more that 88,000 members of the AVMA
"Being on the cover of this prestigious journal is one of the highlights of my professional career," Anne said. "So many veterinarians that I know through my work with Liberty Wildlife have positive comments about the cover art.
"I want to thank the AVMA and journal editor Dr. Kurt Matushek for selecting 'Gulf Coast Gold' for the cover. The journal has a long tradition of using beautiful animal and wildlife art on its covers and past issues are keepsakes for many veterinarians and collectors."
'Bird's Eye View' selected for The Art of Conservation 2014 exhibition and commemorative book cover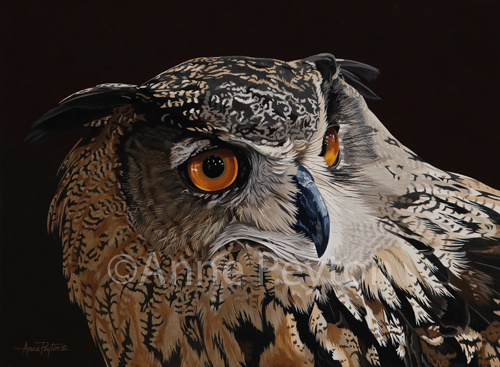 (March 29, 2015) - "Bird's Eye View," Anne Peyton's original painting of a Eurasian Eagle Owl, was selected for the 4th Artists For Conservation Festival.
The painting was also selected for the cover of the AFC's annual exhibit book.
"Seeing a Eurasian Eagle Owl for the first time left me awestruck," Peyton said. "They are among the largest of all owls in the world but what captured my attention were those large, pumpkin-colored eyes.
"Depending on the part of Europe, they range from a species of least concern in some areas to an endangered species in others. During the 1900s, Eurasian Eagle Owl populations declined drastically when humans hunted and poisoned them. With increased protection by local governments and reintroduction in some areas, these owls are slowly making a comeback. While their numbers are improving, it will be some time before they return to the numbers seen in the past."
The exhibit opened at the Grouse Mountain Resort's Spirit Gallery in North Vancouver, B.C., Canada, in September 2014 and features artist displays, lectures and films during the stay. Forty-five pieces, including "Bird's Eye View," were selected for the tour which opened at the Arizona Sonora Desert Museum in Tucson, Ariz., in January 2015.
The exhibit travels to south Florida where it will appear in two venues: the Ansin Family Gallery at the Miramar Cultural Center in Miramar, Fla., from April 25 through May 3; and Nova Southeastern University's Alvin Sherman Library in Fort Lauderdale, Fla., between May 12 and June 15.
'A World of Birds': Anne Peyton featured in American Art Collector
(November 7, 2014) - Arizona wildlife artist Anne Peyton is featured in the November 2014 issue of American Art Collector. The two-page spread, "A World of Birds," is one of Anne's awards for second prize in International Artist magazine's Challenge No. 83: Wildlife.
In the article, Peyton discusses her methods for creating her award-winning paintings and the research process to ensure that each piece is accurate both artistically and scientifically.
"All the birds that I paint are subjects that my husband and I go out and find, so they're all birds in their natural settings, and I like the detail of things, so the anatomy is an important part of everything to me," Peyton says.
"I also like with the acrylics that they have nice hard edges, so it's a great medium for negative spaces and solid backgrounds. I don't always put a background in."
The article also features four Anne Peyton paintings, including "In Perfect Balance," "Morning Glory," "Antelope Island Beauty" and "On His Territory."